November 15, 2007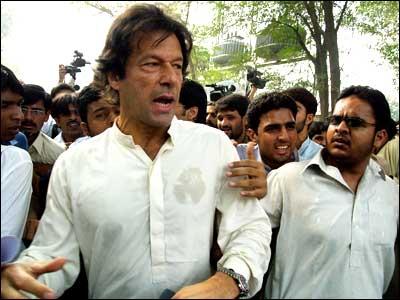 Pakistani opposition leader and former cricketer Imran Khan [Images], who was arrested on Wednesday, had sent a frantic text message to his lawyer just two days earlier saying he feared for his life, London-based daily The Independent has reported.
Imran Khan had gone into hiding and was on the run for 11 days fearing arrest after the country's military ruler President Pervez Musharraf [Images] declared emergency on November 3. He was arrested on Wednesday and charged under Pakistan's Anti-Terrorism Act, under which, if found guilty, he could be sentenced to death or life imprisonment.
The report says Khan had sent an anxious text message to his UK-based lawyer warning that if British authorities failed to prosecute Altaf Hussain, Musharraf's London-based ally, the consequences would be dire. The message also suggested another cause for his arrest.
Muttahida Qaumi Movement leader Altaf Hussain is accused of several crimes, including soliciting murder and inciting violence. A report has been compiled by the former cricketer's lawyer, also named Imran Khan, and submitted to Scotland Yard, who have initiated an investigation into money laundering allegations.
Khans text message to his lawyer reportedly said, 'Once MQM (Hussain) thinks he is safe, my Karachi workers and my own life will be at great risk.'
Members of Imran Khan's party Tehreek-e-Insaf claim that MQM party members are working closely with security forces and that their leader's campaign against Hussain had put his life at risk.
Khan travelled to London [Images] in the summer to campaign for the prosecution of Altaf Hussain after gunmen had opened fire on Pakistan's deposed Chief Justice, Iftikhar Chaudhry in May.
Security forces allegedly stood by and allowed MQM members to open fire. Imran Khan, along with other opposition parties, lawyers, and human rights activists and journalists accused Hussain of masterminding the act from his London base, an accusation denied by the MQM. Hussain on the other hand claimed, "It was a completely peaceful gathering by MQM supporters that was targeted by a collaboration of three other parties".
Fifty-three year-old Altaf Hussain fled Pakistan for Britain in 1992 after an arrest warrant was issued against him in connection with a murder. The chief justice reportedly said that he would pursue the charge against Hussain if and when he returned to Pakistan.
'All parties should support the present government and President General Pervez Musharraf so that the emergency can be lifted, constitution could be restored and elections could be held on schedule. I pay tributes to President General Pervez Musharraf on making courageous and positive announcements,' said Hussain in a statement issued from London soon after Musharraf announced that emergency would not be lifted prior to elections.
Imran Khan was critical of British authorities for not actively investigating Hussain's activities, alleging that it may have been due to government interference. The report claims that the British government had worked with Hussain to ensure the safety of Benazir Bhutto when she returned to Pakistan.
'My legal team presented evidence to Scotland Yard in September 2007 regarding Altaf Hussain's criminal activities. I am very disappointed that over six weeks have gone by and although my lawyers have been keeping in contact with Scotland Yard, a decision has still not been arrived at,' the cricketer-turned-politician had said in a statement.
'I sincerely hope that the British government does not unduly influence the Scotland Yard. Altaf Hussain happens to be someone that President Musharraf regards as an ally in his dictatorship in Pakistan,' he added.
"There is a genuine worry about the safety of my client and he is in real fear. The MQM knows of his campaign and of the information which has been passed on to the police, and we know that the MQM is an ally of General Musharraf. Failure to prosecute Altaf Hussain means that MQM members in Pakistan will think that he is untouchable and that will give them more confidence to act against their opponents like Imran Khan and other opposition leaders," the jailed politician's lawyer said.
Image: Cricketer-turned-politician Imran Khan surrounded by university students at a rally in Lahore [Images] prior to his arrest.
Photograph: Aamir Qureshi/AFP/Getty Images