| | |
| --- | --- |
| Andrew Flintoff | |
| | |
| | |
| | |
| | |
| | |
| | |
November 11, 2008


He is an integral part of the England [Images] cricket team ever since his debut in 1998. The decade saw him score runs and take wickets aplenty, court controversy at the drop of a hat, face subsequent disciplinary action and stay away from the game either because of this reason or injury.

Freddie Flintoff's long absence from the game was because of recurring injuries. But the 30-year-old made a big comeback against South Africa [Images] recently. In the ODI series, he scored 187 runs and took 10 wickets to win the man-of-the-series award. And in the first warm-up game, ahead of the upcoming series, on Indian soil, he scored an unbeaten 100, something that doesn't augur well for India.

The all-rounder now is looking forward to playing his first full-fledged tour in a couple of years and raring to go. 'I enjoy playing Test cricket, especially against India in India,' he tells Bikash Mohapatra. 

You have been out of action for almost 17-18 months. Could you just talk a little about how difficult it was for you? Is this tour a new beginning?

I played against South Africa last summer. Previous to that I underwent my fourth ankle operation. Did the rehab, did everything. At times it was quite tough, especially the period of time I was out and having so many operations.

But the big thing was to put the England shirt back on. Each time you have it on, you want it back on time and time again. So, it's a big incentive to get back to full fitness and get back into the team.

Did you, at any point of time, think that you wouldn't play the game again?

When I went into my fourth ankle operation, if I didn't think that I would be able come back physically fit or I would not play better cricket that I had played before, then I probably wouldn't have forced the decision.

You have had various tours of India and have some great highs on them. Is there a desire to do well in India?

I think any cricketer would want to do well in India. More so, against this current team. And seeing the way they have been performing over the past few weeks against Australia [Images], they possibly are the best team in the world at the moment.

So, from my point of view and from the team's point, there is a desire to perform as a group of players; also individually you want to do well against the best in different conditions.

In recent times, probably we haven't performed as well in the one-day game in India. But this is a new team, a strong team.

You mentioned you didn't do well in the ODI series last time around. But since then England have done quite well in the shorter version. Do you think England is finally giving one-day cricket the respect it deserves?

We always gave one-day cricket respect as players, definitely. We won the CB series in Australia. We came back from nowhere, really. I still don't know how we did that. We won against South Africa this summer, playing some good cricket against a tough team. But the big test for us really is doing well in Indian conditions. It's quite different to playing at Old Trafford or Lord's. The big test for the team is adapting to the conditions that we are going to play in.

It was mentioned that you have been working with Andy Flower on playing spin in India?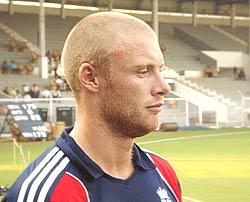 Yes, I have spoken to him and we have done a little bit of work. But I'm not trying to change my original method too much. I am just trying to play to my strengths, and not try to be too tricky.
I have had a method which has worked before. I am quite confident with that. Maybe I'm just trying to fine-tune a little bit, like trying to manoeuvre the ball around, especially early on, and things like that. I have got a week to do that up until the first game. Basically, you need to give things a try, go back to basics and figure out things yourself. One of things that I have tried to do is get lighter on the feet and going backwards and forwards while batting.
It seems that, in these days and with the way cricket is changing, unless you have made a reputation in India, you have never really made it. (Interrupts)
India has always mattered. I think in the last tour it was tough. It has always been like that. Australia, India and Sri Lanka [Images] are the big trips now. Each tour you have different challenges and India has got a lot of them.
But do you agree to the fact that it has 70 per cent of the money, probably 70 per cent of the coverage, huge fan base, the power of India and the IPL. Do you think about all these factors?
If you think about the distractions like the IPL, endorsements, media attention and stuff, then you are going to struggle. You just have to concentrate on scoring a few runs.
In Tests, these days they play with the SG ball here, which is different from the Kookaburra or the Duke. The Aussies have struggled despite having Troy Cooley (who did so well with you in 2005). Anything different that you found with the ball?
I am not in a position to comment on that besides saying that India have done well. I have not tracked a lot of the series. But the Indian bowlers have used reverse swing well and are skilled and have all basics covered.
But the SG ball isn't too different. The Kookaburra does go soft a bit quicker. The SG ball has a more pronounced seam for a longer period of time. It's not something that we're going to worry too much about.
The last time a Test was played at the CCI, it featured England led by Tony Lewis. It has been 35 years since. Are you looking forward to the upcoming Test there?
I'm looking forward to playing there. I played there in March for the Lions. It's a nice stadium. I also enjoyed playing at the Wankhede stadium and I have had good success there as well.
I have always been excited about coming here in India. I've had many highs and some lows here. Hopefully, this trip will be successful and enjoyable too.
Sachin Tendulkar [Images] is not playing in the first three ODIs. Do you think India will be vulnerable in his absence?
Not at all. There is a lot of talent in the side. It's a shame Sachin won't be there for the first three ODIs. In a strange way, I enjoy playing against him. He's the greatest I've ever bowled to. You want to play against people like that. You want to test yourself. He is someone I've enjoyed watching and growing up.
Before Sourav Ganguly's [Images] retirement, would you have liked to have one last go at him?
Not on these wickets. (laughs). He's a fine player. I actually wanted him to score a hundred. (laughs again)
Would you remove your shirt if England wins?
Depends, actually. Will have to find some abs in the next few weeks. (laughs)
The Indian Test team is in a transition phase, with senior players retiring. Do you think this is England's big chance to win a series here?
I thought we had a good chance last time. But one bad hour in Mohali cost us the game. We probably haven't performed as well as we would have liked to here. We would like to correct that this time. It's going to be tough, but we have some talented players. Kevin [Pietersen] has taken over and Steve (Harmison) is back. So we have a chance.
Would you have wanted the Test series to be longer, more than just two Tests?
Yes, definitely. I enjoy playing Test cricket, especially against India in India. We should have played at least three.
Are you in negotiations with any Indian Premier League [Images] team?
I am not in a position to say a great deal about this. This is something that will take care of itself in its due course. The only thing I am concentrating on now is playing against India. And I don't think all the discussions surrounding it will affect our dressing room.
How much of the IPL action did you see in the first season?
I saw a couple of games, not many. We haven't got it in England. I saw Brendon McCullum score 150. But it seemed good fun, big crowds.
What's your role in the new team set up?
I'm probably in a role that is more comfortable. I've had a go at captaincy. Batting and bowling and captaincy turned out to be a bit too much. Now I have a role to obviously help out the younger players; to try and pass on the experience and knowledge that I got. I think it is far more comfortable doing that.
Are you happy with the current batting order and your place in that?
I've had more success playing at No. 5 in ODIs. Did that against SA and succeeded.
With Harmison, Broad and Sidebottom where do you bowl now?
I won't open for sure. I think first change is where you will see me as we have guys who are more equipped to open.
Reverse swing is being seen as a big factor in India. Your thoughts?
Reverse swing is a great asset if it happens. The likes of Zaheer Khan [Images] and Ishant Sharma have used it well. On abrasive wickets like these, it is something which will come in handy.  
Photographs: Bikash Mohapatra
More Interviews